Overview
This procedure is an injection that numbs branches of nerves in your lower back. It helps doctors find and treat a number of problems linked to these nerves. Usually, a series of injections is needed to treat a problem.
About the Sympathetic Nerves
The sympathetic nerves travel along both sides of your spine. They are associated with a wide range of functions that you don't consciously control. These include your circulation, digestion and sweat production.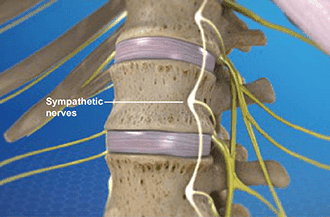 Preparation
In preparation for the procedure, you lie on your stomach or your side. You are given medicine to make you feel relaxed. The skin and tissue at the injection site is numbed.
Inserting the Needle
The physician inserts a needle and carefully guides it to the sympathetic nerves. The physician typically uses an x-ray device called a "fluoroscope." This shows a video image of the needle's position. Contrast dye may be injected to help confirm that the needle is placed correctly.
Injecting the Medicine
Next, the physician injects medicine. It bathes the nerves. It can numb the nerves and reduce inflammation. If these nerves have been a source of pain, the medicine can relieve it. The injection may also provide other benefits, depending on your needs.
End of Procedure
When the procedure is complete, the needle is removed and the injection site is covered with a bandage. You will be monitored for a brief time before you are allowed to go home. After a lumbar sympathetic block, many people experience leg numbness or weakness. This is normal, and usually lasts for only a few hours. You may need to return for more injections in the future.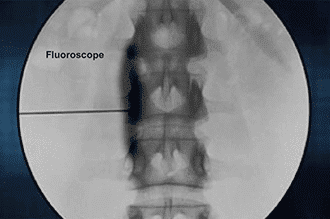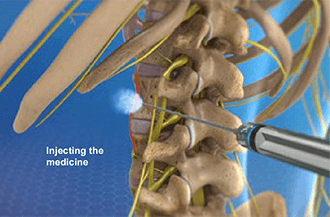 Want to become a patient ?
Either call us at (865) 337-5137 today
or Request a Call Back below!
Over 500 five star reviews
I have been a patient of Dr. Igor's for 2-3 years now. He is one of the best pain doctors I have been to since becoming sick 12 years ago. He listens to the issues I have and works out a pain management plan with me. He takes the time to explain what is going on and makes me understand. He also has a great sense of humor. I'm so happy to have finally found a great doctor.
Melanie Lynch
Dr. Igor has done a wonderful job of meeting my needs with pain management. He is very careful with me concerning medications. Although medicine is a necessary evil, he makes sure that my pain management is manageable without "overdoing" the drugs. He is very thorough and does a great job with back procedures. I'm so thankful to have him for my pain management doctor.
Nancy Ladd
@username
I have a lot of issues with pain in my hips and back. I have always been very fearful of going to doctors until I was sent to Dr. Igor Smelyansky. He has been so wonderful to me and always makes me feel like the only patient he has. Thank you.
Paul T. Ondako
@username
I have known Dr. Igor for 3 or 4 years and am so pleased with his work as a doctor. He is a super doctor. I would be very unhappy if I were told that Dr. Igor was not going to be my doctor. He is a very pleasant person to have as my doctor. I hope that he never stops being by doctor. Thank you Dr. Igor.
Sharon Prater
@username
I would like to say I've been seeing Dr. Igor for a year now. I really like his attitude he has towards me and tries the best he can to do what he can to help me with my pain management and I would highly recommend him to anyone that needs treatment for pain.
Michael J. Hornyak
@username
I have been a patient of Dr. Igor's for the past three years. I'm 53 years old and have been a carpenter all my life. I have no cartilage in my left knee since 1979, I suffered breaks of L1, T 11, T 12 in 1987 from a fall (30 feet). Have broken right hand several times as a result of my work. Over the years I have seen many different doctors for these issues. Dr. Igor is the only doctor that ...
Edith Compton
@username
I have been a patient of Dr. Igor for several years and I'm very happy with his care and concern for my well-being. I would not hesitate to recommend Dr. Igor.
Timothy A. Couch
@username
I have been treated for my lower back pain by Dr. Igor for three years at Roanne County and Crossville. The injections he has given me have greatly helped. Overall he has taken excellent care of me.
Garland Gibson
@username
I have been to Dr. Igor many times and he has helped me a lot. He takes time to ask questions + listens to your problems. He gave me injections and they helped a lot also.