Platelet Rich Plasma (PRP)

Knoxville, TN
Platelet rich plasma therapy for injuries
What is one thing that Tiger Woods, Kobe Bryant, Alex Rodriguez, and Steph Curry have in common? All those great athletes have had so-called "PRP injections" that helped them rapidly recover from sports injuries. So what exactly are those injections? Let's find out.
Platelet rich plasma (PRP) injections are an innovative treatment that harnesses your body's natural healing ability, multiplies it, and delivers it to the area of the body that needs it most. At Omega Pain Doctor clinic in Knoxville, platelet rich plasma injections are used to treat a variety of conditions.
PRP is a bioactive substance made out of a person's own blood, that can be beneficial in treating joint, ligament, tendon, and muscle injuries. Even though it has been used for blood transfusions and surgery procedures throughout the second half of the 20th century, it was only in the early 2000s that it found its application in orthopedics.
Platelet rich plasma therapy has become widespread among professional athletes, allowing them to recover from soft tissue injuries quicker. And now, it's available to everyone.
What is platelet rich plasma?
Plasma is the liquid part of the blood, which holds red blood cells, white blood cells, and platelets. PRP is plasma that contains a higher number of platelets, usually around 3-5 times more than normal.
Platelets are blood cells known for blood coagulation and stopping the bleeding after an injury. But another key function of platelets is the activation of the body's natural healing process. They contain special proteins called growth factors that can trigger cell growth and tissue repair.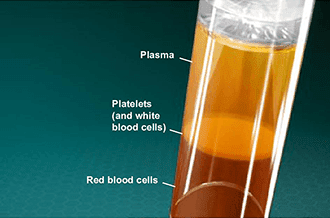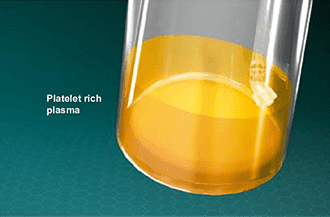 How does it work?
Platelet rich plasma is derived from a patient's own blood in a simple process. After taking a blood sample from the patient, a doctor uses a device called a centrifuge to separate various blood components. Highly concentrated platelets are added to the plasma, creating platelet rich plasma. Once prepared, the platelet rich plasma is injected into the injured part of the body, where the platelets release their growth factors and enhance recovery.
At the same time, platelet rich plasma triggers the activation of macrophages – the immune cells that clear away the damaged parts of the injured tissue and prepare it for healing. PRP also enhances the production of stem cells, which become the building blocks of the tissue repair.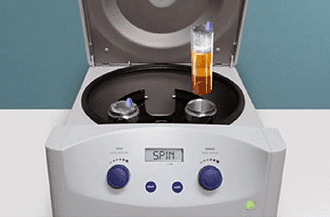 Benefits of PRP injections
Platelet rich plasma (PRP) at Knoxville, TN Pain Management clinic are used to reduce pain and improve the healing of musculoskeletal injuries and chronic tendon conditions such as:
tennis elbow,
rotator cuff tears in the shoulder,
a torn meniscus in the knee,
plantar fasciitis in the foot, and
spine and hip injuries.
Ligaments and tendons can be quite stubborn in terms of healing. They have a low blood supply, which means they don't receive as many platelets as most other parts of the body. Boosting a flow of platelets to the injury site through a PRP injection can help the tissue heal and regenerate faster.
PRP injections can also help relieve inflammation and pain from osteoarthritis in the short and medium term (up to a year).
How effective are PRP injections?
Platelet rich plasma therapy is a relatively new procedure, and the clinical studies are still in the early stages. The techniques, concentrations, and applications can differ between research teams which makes it harder to consolidate the results.
Nonetheless, there have been a few promising studies that show that platelet plasma injections can be effective.
In 2006, A. Mishra and T. Pavelko, researchers from Stanford University Medical Center, followed 15 patients who had persistent pain from elbow tendinosis and were considering surgery. Eight weeks after a single PRP injection, the patients reported an average of 60% improvement in their pain scores, compared to 16% in the control group. After 2 years, the pain levels of the PRP patients were reduced by 93%.
A small 2008 study of rotator cuff tear patients concluded that "the application of platelet rich plasma during arthroscopic rotator cuff repair is safe and effective, and produces results which seem to be stable with time."
In 2009, an animal study published in The American Journal of Sports Medicine found that "local delivery of PRP can shorten recovery time after a muscle strain injury."
Moreover, PRP therapy in Knoxville, TN Omega Pain Management clinic has proven to be highly effective in treating a wide range of conditions, combined with the team's expertise and dedication.
Side effects, precautions, and considerations
Platelet rich plasma injection is a very safe and minimally invasive procedure. Since PRP comes from a patient's own cells, side effects and adverse reactions are unlikely. The injection is quick and is done on an outpatient basis. Since the procedure involves a blood draw, it's important to ensure you are hydrated and have eaten, to avoid light-headedness.
After the procedure, you may feel pain at the injection site for the first several days. It's recommended to lower your activity levels for a few days after the treatment. You should start to feel some improvement in your symptoms in 2-6 weeks but it might take longer to reach its full effect.
The patients that are taking blood thinners might have to stop them before the injection, but this consideration should always be cleared with your doctor.
Non-steroidal anti-inflammatory drugs (NSAIDs), such as Ibuprofen, have been shown to reduce platelet function, which is why they should not be used 2 weeks before and 6 weeks after the procedure.
In some cases, repeat injections might be recommended to improve the outcome.
Contraindications
PRP injections are not recommended if you have:
abnormal platelet function
low platelet count
anemia
infection
cancer
If you have any of these conditions, please make sure to let your doctor know.
Conclusion
Platelet rich plasma injection is an innovative procedure that can help you recover from a joint, muscle, tendon or ligament injury. It uses the platelets from your own blood to speed up the immune response and promote new cell growth. The practice has been shown to be effective in a few small studies although further research is necessary to confirm the efficacy on a larger scale. One of the main benefits of the injection is that it carries very low risk, making it an attractive option as pain relief and recovery aid. It can be used in combination with other treatments, such as physical therapy, to achieve the best results. If you are considering platelet rich plasma injections, please contact your doctor, who will be able to answer any questions you may have regarding the procedure.
PRP Therapy in Knoxville, TN
PRP at Knoxville Omega Pain Management clinic is widely used to treat a range of pain conditions, including achilles tendonitis, knee osteoarthritis, plantar fasciitis, hip arthritis, hip bursitis, etc. The team led by Dr. Igor Smelyansky, MD provides PRP therapy with a holistic approach and personalized care for effective pain relief. 
To explore the benefits of PRP in Knoxville, don't hesitate to contact Dr. Smelyansky at (865) 337-5137 and book a consultation. Relieve your pain and improve your quality of life today!
Want to become a patient ?
Either call us at (865) 337-5137 today
or Request a Call Back below!
Over 500 five star reviews

Teresa Storie
I have been a patient of Dr. Igor's for 2-3 years now. He is one of the best pain doctors I have been to since becoming sick 12 years ago. He listens to the issues I have and works out a pain management plan with me. He takes the time to explain what is going on and makes me understand. He also has a great sense of humor. I'm so happy to have finally found a great doctor.

Melanie Lynch
Dr. Igor has done a wonderful job of meeting my needs with pain management. He is very careful with me concerning medications. Although medicine is a necessary evil, he makes sure that my pain management is manageable without "overdoing" the drugs. He is very thorough and does a great job with back procedures. I'm so thankful to have him for my pain management doctor.

Nancy Ladd
@username
I have a lot of issues with pain in my hips and back. I have always been very fearful of going to doctors until I was sent to Dr. Igor Smelyansky. He has been so wonderful to me and always makes me feel like the only patient he has. Thank you.

Paul T. Ondako
@username
I have known Dr. Igor for 3 or 4 years and am so pleased with his work as a doctor. He is a super doctor. I would be very unhappy if I were told that Dr. Igor was not going to be my doctor. He is a very pleasant person to have as my doctor. I hope that he never stops being by doctor. Thank you Dr. Igor.

Sharon Prater
@username
I would like to say I've been seeing Dr. Igor for a year now. I really like his attitude he has towards me and tries the best he can to do what he can to help me with my pain management and I would highly recommend him to anyone that needs treatment for pain.

Michael J. Hornyak
@username
I have been a patient of Dr. Igor's for the past three years. I'm 53 years old and have been a carpenter all my life. I have no cartilage in my left knee since 1979, I suffered breaks of L1, T 11, T 12 in 1987 from a fall (30 feet). Have broken right hand several times as a result of my work. Over the years I have seen many different doctors for these issues. Dr. Igor is the only doctor that ...

Edith Compton
@username
I have been a patient of Dr. Igor for several years and I'm very happy with his care and concern for my well-being. I would not hesitate to recommend Dr. Igor.

Timothy A. Couch
@username
I have been treated for my lower back pain by Dr. Igor for three years at Roanne County and Crossville. The injections he has given me have greatly helped. Overall he has taken excellent care of me.

Garland Gibson
@username
I have been to Dr. Igor many times and he has helped me a lot. He takes time to ask questions + listens to your problems. He gave me injections and they helped a lot also.