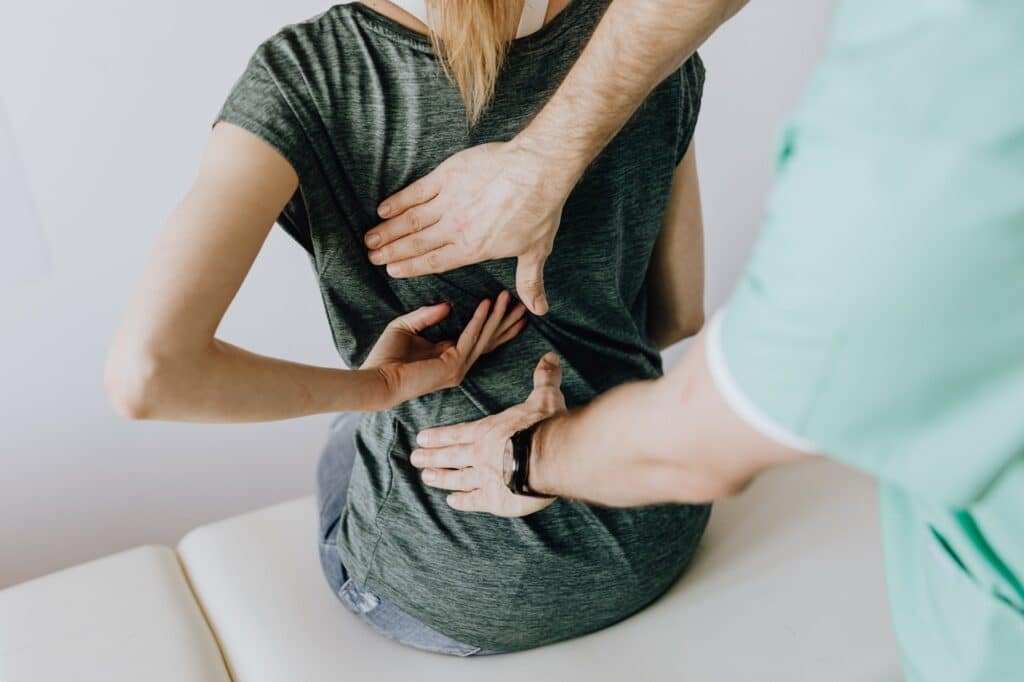 Herniated Disc
Herniated Disc/ Bulging Disc condition
Back problems due to lumbar disc herniations are one of the most common complaints heard in the medical profession, and sadly, many people have back pain that's chronic, which means it keeps on coming back. Sometimes you'll have sudden back pain from an injury that's acute and sharp, but the pain goes away on its own after a few days or a couple of weeks. Lumbago, a type of lower back pain, is very common in the US.
 However, if you have chronic back pain, and especially if it travels from your spine your leg and into your foot, it could be may be a sign of a herniated disk.
Herniated discs can cause sciatica, which can be a very unpleasant condition to suffer from. Sciatica originates from the sciatic nerve and occurs when it becomes "pinched," causing widespread pain. 
What Causes A Herniated Disc?
A herniated disk occurs when spinal disk tissue bulges beyond the edges of the vertebrae. "Herniated" tissue then puts pressure on the spinal nerves, including the sciatic nerve, and and irritates them, causing pain that travels from your spine to your feet and ankles.
A slipped or herniated disk is a very painful injury, but it's usually short term and the pain normally subsides in a matter of weeks. However, if your pain lasts longer than six weeks, or seems to get worse instead of better, you'll want to seek out the assistance of a competent physician. Sometimes a herniated disc is caused by degenerative disc disease, which causes a narrowing of the open spaces within your spine, called spinal stenosis. This, in turn, can put pressure on your spinal cord  and the sciatic nerve.
What Other Causes Are There For Chronic Back Pain?
A herniated disc is one common diagnosis, but there can often be coexisting conditions or a differential diagnosis that your doctor will come up with. You can't self-diagnose back pain because there are simply too many conditions that cause it.
Sometimes a herniated disc can be exacerbated by arthritis, or even mistaken for it. Arthritis is quite common in the United States. Nearly 90% of Americans 55 years of age and older experience some form of arthritis as they age.  Psoriatic arthritis, a form of arthritis that affects people who have psoriasis, is often a culprit in back pain, too.
How Is Long Term Pain Treated?
If you've experienced pain in your back or lower back for more than six weeks, your pain is considered chronic. Chronic pain needs to be healed with the guidance of a competent physician.
For most people, readily available nonsurgical remedies and exercises or stretches  will be the most effective treatment. Others will need an approach that combines pain management with healing and may need to take over the counter or prescription medications.
Effective treatment of herniated disc can reduce pain and increase your mobility. But it's up to you to take charge of your recovery. If you're looking for a pain clinic, Knoxville, TN, contact Omega Pain Management, the comprehensive pain specialists. Just pick up the phone to make an appointment with Dr. Igor Smelyansky.