Epidural Steroid Injection for Back and Neck Pain: What Is It and How Effective Is It?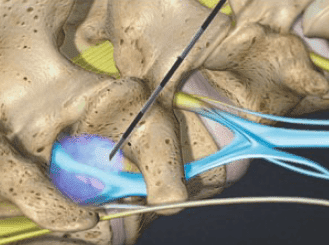 Back pain is one of the most common medical problems, with 80% of Americans experiencing it at some point in their lives. Neck pain is another widespread complaint that affects around a third of the population. Although in most cases the pain subsides on its own, sometimes treatment may be required. This article discusses epidural steroid injection as a pain relief option for chronic lower back pain and neck pain.
Several conditions can cause lower back and neck pain:
Herniated disk – a protruding of soft tissue between the bones in your spine that presses on the nerve
Spinal stenosis – a narrowing of the spinal canal that compresses the nerve
Spondylolisthesis – a bone in your spine that slips out of place
Strain or trauma
The main goal of epidural steroid injection is to manage chronic pain caused by inflamed nerve roots in your spine. It can be an effective alternative to taking oral painkillers and can improve the patient's quality of life by providing full or partial pain relief.
What is an epidural steroid injection?
When a nerve from a spinal cord gets pinched or compressed it becomes inflamed causing sharp pain, a condition known as radiculopathy. The location of the pain sensation can vary depending on which nerve is affected. Compression at the top section of the spine will result in neck pain, whereas a pinched nerve at the bottom section could cause pain not only in the lower back but sometimes in the legs and feet, which is known as sciatica.
Epidural steroid injection is a treatment for various types of radiculopathy, including neck pain, lower back pain, and sciatica, which involves injecting a mixture of anesthetic and steroid medication directly into the area around your spinal nerves, called the epidural space.
How does it work?
The medicine in the epidural steroid injection envelopes the compressed nerves reducing inflammation and providing pain relief.
There are 3 types of injection techniques: transforaminal, caudal, and interlaminar. They differ by the specific area of the spine that the medicine is injected into. Your doctor will be able to recommend the best option depending on the type and location of your pain as well as your medical history.
During the injection, a contrast dye is used to guide the needle to the correct area of the spine. This increases the precision of the procedure and ensures that the medication is distributed as close to the affected nerve as possible.
The effect of the medication is noticeable within hours or days and can last for weeks or sometimes months. The degree of pain relief can vary substantially from patient to patient. If the procedure is successful, repeat injections are recommended once the effect starts to subside. In some cases, a single injection is sufficient for long-term relief.
Benefits of the injection
Anyone who has ever experienced back or neck pain can relate to how debilitating it is. By providing temporary pain relief, the injections can significantly improve patients' quality of life, allowing them to move more freely. The reduction of pain sensation means they can more easily engage in physical therapy that might be necessary for the improvement of their condition. It also reduces the need for oral medications that often have side effects when taken long-term. In some cases, it can postpone or even eliminate the need for surgery.
How effective are epidural steroid injections?
In 2012, a group of physicians specializing in pain management from various universities and hospitals across the US and the UK conducted a systematic review analyzing data from 27 different studies of lumbar epidural steroid injections. They concluded that it was an effective method of pain management for lower back pain, especially when it's caused by a disk herniation.
A more recent 2021 review study confirmed this finding, stating that "at both 3 and 6 months, there was highly statistically significant improvement in both pain and function".
Regarding neck pain, a 2020 review determined that "approximately half of patients with cervical radicular pain experience at least 50% pain reduction for up to three months."
The injections do not require surgery or recovery time. Patients can return home after the procedure and may feel pain relief immediately, although steroids can take a few days to achieve full effect.
Side effects and precautions
Epidural steroid injection is a relatively safe and minimally invasive procedure. The common side effects, such as pain at the site of the injection, dizziness, nausea, and headache, usually disappear within hours or even minutes. More serious side effects may include nerve damage, dural puncture, bleeding into the epidural space, and infection, although these are very rare.
Contraindications
Infections, blood disorders or taking blood thinner medications, allergies, and tumors are contraindications for this type of injections. Please let your doctor know about any of these conditions before the procedure as it can compromise the efficiency of the treatment.
Epidural steroid injection cost
The cost of the epidural steroid injection will depend on your health insurance contract but in most cases, it will be covered by your insurance provider. Your doctor's office will contact your insurance company to obtain authorization for the procedure. Once confirmed, you will only be expected to cover a portion of the cost, depending on the terms and conditions of your insurance plan.
Where can you find a doctor who provides epidural steroid injection procedures?
There are many resources available online that can help you find the right doctor. It is important to ensure that they have prior experience in performing this procedure. A local pain management doctor will usually be able to provide this type of service. Another option is to ask your friends, family, or colleagues for recommendations.
To see a list of physicians who specialize in epidural steroid injections in your area, please search for your ZIP code on Findatopdoc.com.
Conclusion
Epidural Steroid Injection is an effective and minimally invasive treatment for various types of radiculopathy, including lower back pain, sciatica, and neck pain. The combination of local anesthetic and steroids provides pain relief that can last from weeks to months. In some cases, a repeat procedure is beneficial. Side effects are typically minor, although in rare cases there is a small risk of complications. Epidural Steroid Injection is a promising option for patients with chronic pain and a great alternative to surgery or oral medication. It can offer you the mobility and pain relief that will improve your quality of life and mental wellbeing.
If you're suffering from chronic pain and are considering getting an epidural steroid injection for back pain, it's important to get an accurate diagnosis and then work with a pain specialist to help reduce your pain and improve your quality of life. If you're in need of pain management in Knoxville, TN, contact Omega Pain Management for an appointment with Dr. Igor Smelyansky. Phone (865) 337-5137.
References:
Manchikanti L, Buenaventura RM, Manchikanti KN, Ruan X, Gupta S, Smith HS, Christo PJ, Ward SP. Effectiveness of therapeutic lumbar transforaminal epidural steroid injections in managing lumbar spinal pain. Pain Physician. 2012 May-Jun;15(3):E199-245. PMID: 22622912.
Helm Ii S, Harmon PC, Noe C, Calodney AK, Abd-Elsayed A, Knezevic NN, Racz GB. Transforaminal Epidural Steroid Injections: A Systematic Review and Meta-Analysis of Efficacy and Safety. Pain Physician. 2021 Jan;24(S1):S209-S232. PMID: 33492919.
Manchikanti L, Singh V, Pampati V, Falco FJ, Hirsch JA. Comparison of the efficacy of caudal, interlaminar, and transforaminal epidural injections in managing lumbar disc herniation: is one method superior to the other? Korean J Pain. 2015 Jan;28(1):11-21. doi: 10.3344/kjp.2015.28.1.11. Epub 2015 Jan 2. PMID: 25589942; PMCID: PMC4293502.
Aaron Conger, DO, Daniel M Cushman, MD, Rebecca A Speckman, MD, PhD, Taylor Burnham, DO, Masaru Teramoto, PhD, MPH, Zachary L McCormick, MD, The Effectiveness of Fluoroscopically Guided Cervical Transforaminal Epidural Steroid Injection for the Treatment of Radicular Pain; a Systematic Review and Meta-analysis, Pain Medicine, Volume 21, Issue 1, January 2020, Pages 41–54, https://doi.org/10.1093/pm/pnz127
Please share this post by clicking